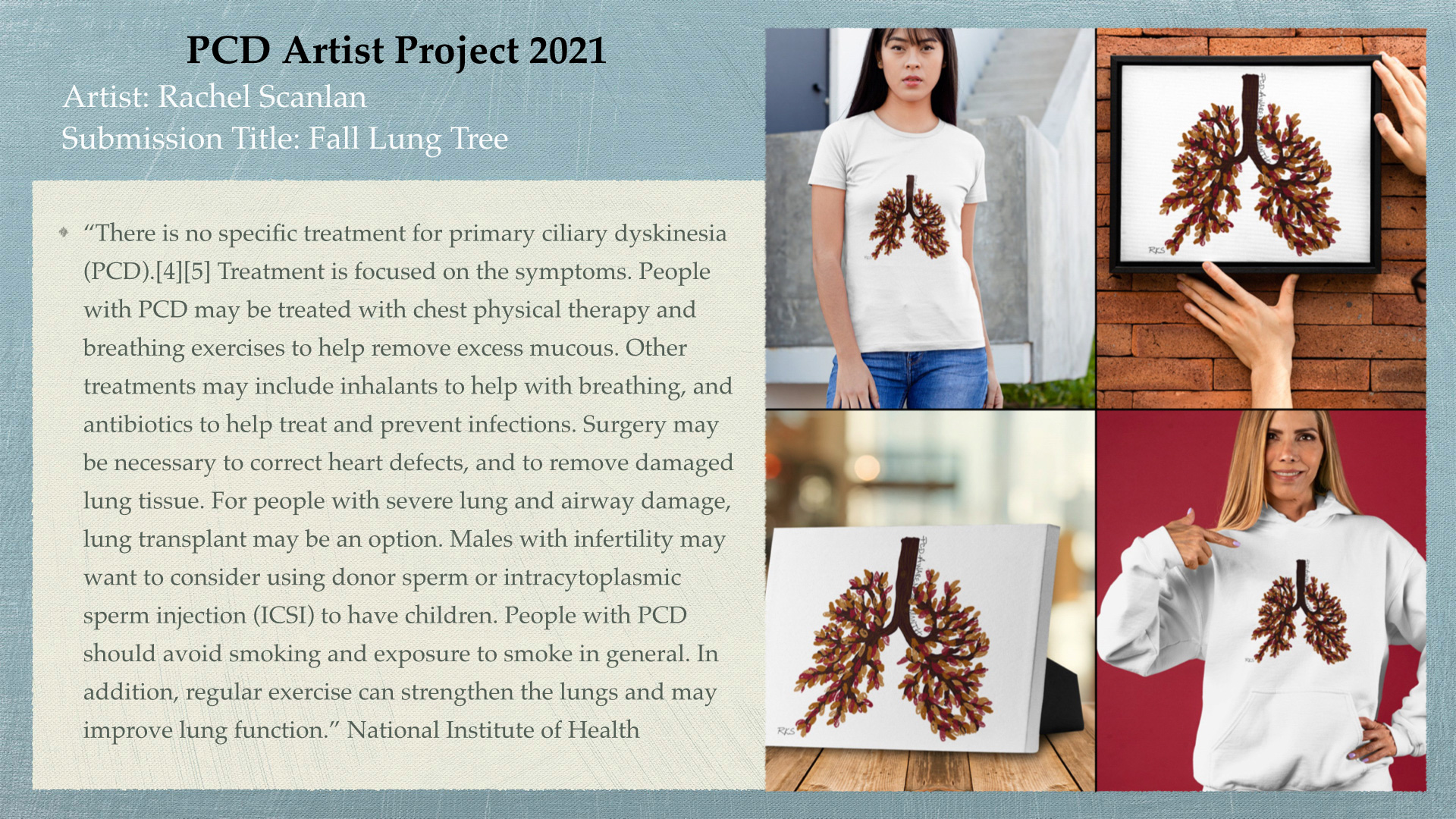 Today's featured artist is Rachel Scanlan with her submission titled "Fall Lung Tree".
"There is no specific treatment for primary ciliary dyskinesia (PCD).[4][5] Treatment is focused on the symptoms. People with PCD may be treated with chest physical therapy and breathing exercises to help remove excess mucous. Other treatments may include inhalants to help with breathing, and antibiotics to help treat and prevent infections. Surgery may be necessary to correct heart defects, and to remove damaged lung tissue. For people with severe lung and airway damage, lung transplant may be an option. Males with infertility may want to consider using donor sperm or intracytoplasmic sperm injection (ICSI) to have children. People with PCD should avoid smoking and exposure to smoke in general. In addition, regular exercise can strengthen the lungs and may improve lung function." National Institute of Health
The PCD Artist Project is a collaborative effort by artist to raise awareness for PCD or primary ciliary dyskinesia and support the PCD Smiles program. Each artist who submitted art work to the project either has PCD or has a PCD family member.
The PCD Artist Project's 2021 exhibition merchandise ranges from apparel, giftware, home furnishings, and printed products such as posters, prints, wall art, and other items, all created from our exhibition; which can be viewed on PCD Smiles's website. It is our hope that you support the PCD Smiles program by purchasing exhibition merchandise today.
***All proceeds from the PCD Artist Project go to support PCD Smiles!!!
Visit our shop today for your exhibition merchandise and more.
https://www.smileecove.com/stores/cove
Join our Facebook group Turtle Talk Café today, click here.
We have several ways that you can donate to PCD Smiles;
- Visit Smile E. Turtle's Amazon Wishlist; https://www.amazon.com/hz/wishlist/ls/KNO9BAJR74I4?ref_=wl_share
- For more information on how you can donate, please visit our "Donation" page to check out our "Do & Don't policies at; http://www.pcdsmiles.com/support-pcdsmiles/donations2
- To sponsor a PCD Smiles Cheer-box today!
https://store.pcdstyle.com/21-donations
- To shop for your "Official" turtle care ribbon gear today!
or
https://www.smileecove.com/stores/cove
Thank you for your consideration!
#PCDsmiles  #PCDstyle  #PCDsmilesCookbook  #PrimaryCiliaryDyskinesia  #SmileEcove  #TurtleTalk  #TurtleTalkCafe  #PCD
#PCDawareness to help find a #cure4PCD!