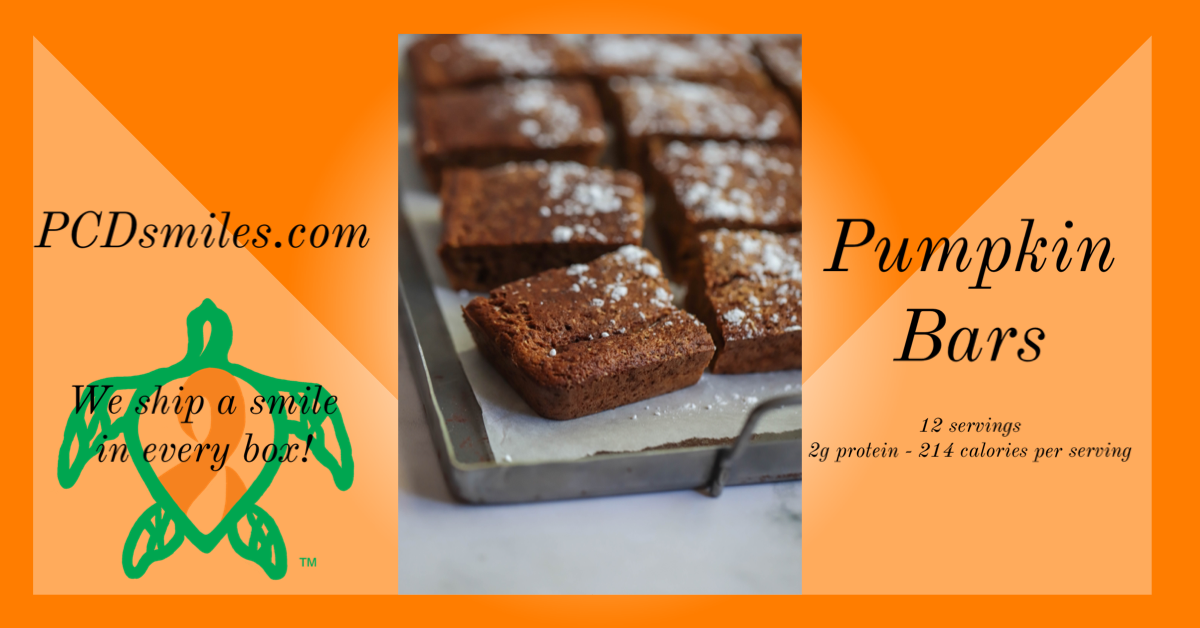 Our "Pumpkin Bars" are the perfect addition to your Fall menu. We hope you enjoy another sneak peek at recipes from our forthcoming cookbook in 2023.
Pumpkin Bars
12 servings
10 minute prep; 50 minute cook
Ingredients required:
1 1⁄2 cups (180g) all-purpose flour
1 tsp. ground cinnamon
1⁄2 tsp. salt
1⁄2 tsp. baking soda
2 eggs, room temperature
1 cup (180g) coconut sugar 1 cup (250g) pumpkin puree 1⁄2 cup (120ml) olive oil
3⁄4 cup (185g) applesauce, unsweetened
Instructions:
Preheat the oven to 350°F (180°C). Line a square baking pan with baking paper.
Mix the flour, cinnamon, salt and baking soda in a large bowl.
Beat the eggs, sugar, pumpkin puree, oil and applesauce in another large bowl. Fold the dry ingredients into wet ingredients and mix until just combined.
Pour the batter into the prepared baking pan, place into a hot oven and bake for 45-50 minutes or until a toothpick inserted in the center comes out clean.
Remove the pan from the oven, and set aside on a wire rack to cool completely before slicing into bars.
Nutritional information: per serving - 214 calories, 10 fat, 32 carbohydrates, 2 protein, 3 fiber
Have you gotten your 2017 PCD Smiles Cookbook yet? Our 2017 cookbook is available on Amazon or at your local bookseller through their special order department. Please note that these full recipes are not in our 2017 cookbook. For our 2017 cookbook recipes please order our 2017 PCD Smiles Cookbook from your local bookseller or through Amazon.
Join our Facebook group Turtle Talk Café today!
We have several ways that you can donate to PCD Smiles;
- Visit Smile E. Turtle's Amazon Wishlist; https://www.amazon.com/hz/wishlist/ls/KNO9BAJR74I4?ref_=wl_share
- For more information on how you can donate, please visit our "Donation" page to check out our "Do & Don't policies at; http://www.pcdsmiles.com/support-pcdsmiles/donations2
- To sponsor a PCD Smiles Cheer-box today!
https://store.pcdstyle.com/21-donations
- To shop for your "Official" turtle care ribbon gear today!
or
https://www.smileecove.com/stores/cove
Thank you for your consideration!
#PCDsmiles  #PCDstyle  #PCDsmilesCookbook  #PrimaryCiliaryDyskinesia  #SmileEcove  #TurtleTalk  #TurtleTalkCafe  #PCD
#PCDawareness to help find a #cure4PCD!