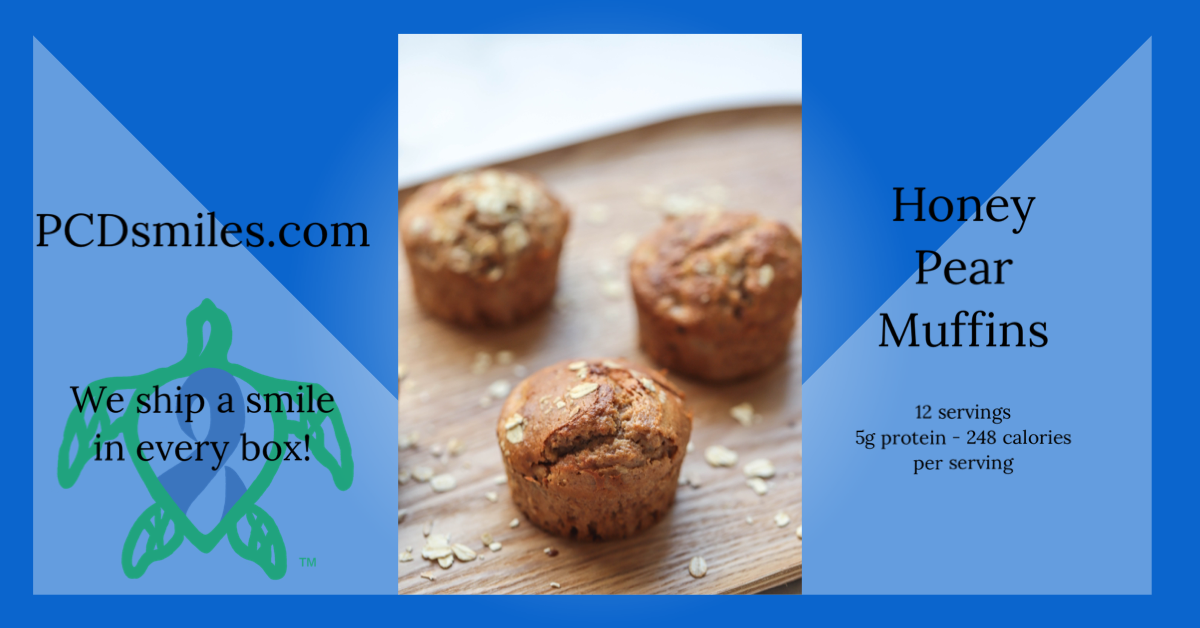 With 5 grams of protein per serving our "Honey Pear Muffins" is the perfect protein breakfast muffin to break your fast with. Here is one of our new recipes for our next cookbook coming soon.
Honey Pear Muffins
12 servings
15 minute prep; 20 minute cook
Ingredients required:
1.6 oz. (45g) wholemeal flour
4.2 oz. (120g) all-purpose flour
1 scoop vanilla protein powder
1 tsp. baking powder
1 tsp. baking soda
½ tsp. salt
¼ tsp. ground ginger
⅛ tsp. ground nutmeg
1 tsp. ground cinnamon
large egg
6 oz. (170g) honey
5.4 fl oz. (160ml) almond milk, unsweetened
2.7 oz. (80ml) olive oil
1½ tsp. vanilla extract
6.3 oz. (180g) finely diced pears
1 oz. (30g) rolled oats
2 oz. (60g) finely chopped walnuts
Instructions:
Preheat the oven to 350°F (190°C). Line a muffin tin with paper cups or lightly spray with cooking spray.
In a large bowl, whisk together the flours, protein powder, baking powder, baking soda, salt, ginger, nutmeg and cinnamon until just combined.
In a separate mixing bowl, whisk together the egg, honey, milk,olive oil and vanilla extract until just combined.
Add the wet ingredients to the dry ingredients and stir to combine. Now gently fold in the chopped pears, rolled oats and walnuts. Do not overmix the batter, only stir until just combined.
Spoon the mixture into the muffin cups, filling them ⅔ of the way up the cup.
Place into the hot oven to bake for 18-20 minutes, until the tops are golden brown, and a toothpick inserted into the center of the muffin comes out clean.
Nutritional information: per serving - 248 calories, 10 fat, 36 carbohydrates, 5 protein, 5 fiber
Have you gotten your 2017 PCD Smiles Cookbook yet? Our 2017 cookbook is available on Amazon or at your local bookseller through their special order department.
Join our Facebook group Turtle Talk Café today, click here.
We have several ways that you can donate to PCD Smiles;
- Visit Smile E. Turtle's Amazon Wishlist
- For more information on how you can donate, please visit our "Donation" page to check out our "Do & Don't policies.
- Or sponsor a PCD Smiles cheer package today!
- To shop for your "Official" turtle care ribbon gear today, visit PCD Style or Smile E. Cove
Thank you for your consideration!