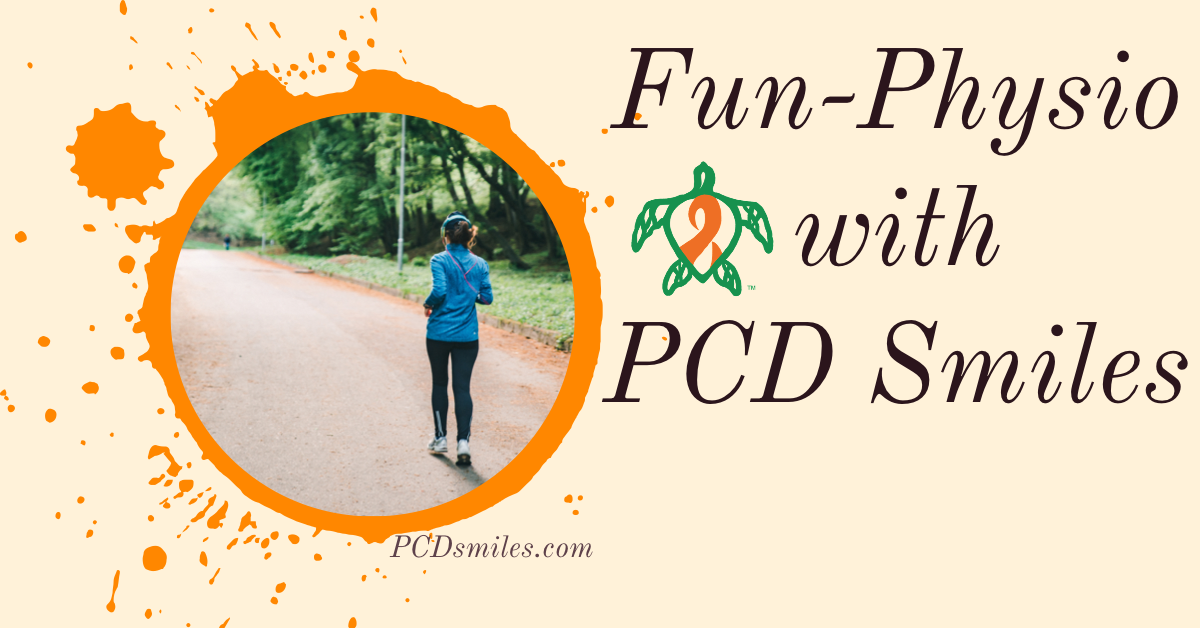 Longer slower paced runs that last over an hour are less likely to cause a flare in your condition that a fast pace short run. It's better for cardio-pulmonary patients to take slower paced runs of an hour than to sprint five miles in one hour. It's easier on the heart and easier on the breathlessness. Remember exercise has a bronchodilation effect on the airways, it basically helps to open the airways. Open airways in a PCD mean that there is more room for the stuck stagnant mucus to move in, so it's less likely to become trapped. And it makes it easier for the PCD patient to then cough out the mucus. The rhythmic pounding of the pavement as the person runs helps to jiggle the stuck mucus lose and hopefully induces coughing to help clear the airways. They rhythmic breathing down during running helps get air in behind trapped mucus to aid in better cough clearance. Remember in PCD it is essential to cough that stagnant stuck mucus up and spit it out to prevent permanent lung tissue damage.
Join our Facebook group Turtle Talk Café today, click here.
We have several ways that you can donate to PCD Smiles;
- Visit Smile E. Turtle's Amazon Wishlist; https://www.amazon.com/hz/wishlist/ls/KNO9BAJR74I4?ref_=wl_share
- For more information on how you can donate, please visit our "Donation" page to check out our "Do & Don't policies at; https://pcdsmiles.com/support-pcdsmiles/donations2
- To sponsor a PCD Smiles Cheer-box today!
https://store.pcdstyle.com/21-donations
- To shop for your "Official" turtle care ribbon gear today!
or
https://www.smileecove.com/stores/cove
Thank you for your consideration!
 #PCDsmiles #PCDstyle  #PCDsmilesCookbook #PrimaryCiliaryDyskinesia #SmileEcove #TurtleTalk #TurtleTalkCafe #PCD#FunPhysioWithPCD
#PCDawareness to help find a #cure4PCD!